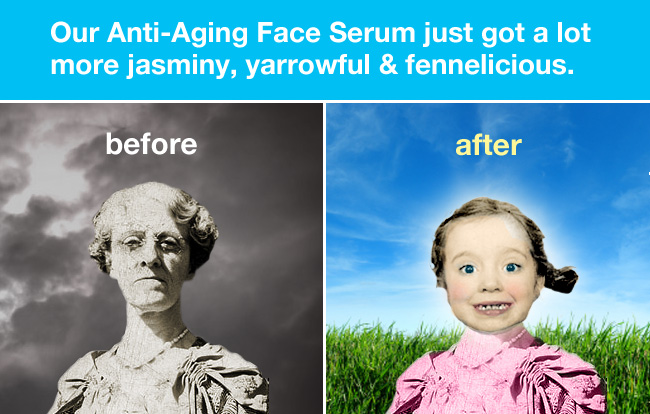 Birdy Botanicals Anti-aging Face Serum just got some new additions to it's scent. I added jasmine, yarrow and fennel to give even more anti-aging benefits like a brighter skin tone.
People often ask me "What's Birdy's Anti-aging Face Serum got that the other don't?" Well, come a little closer.
It's got instant gratification: DMAE reduces fine lines and swelling for the day giving you instant results!
Ascorbyl palmitate (Vit. C ester) is a fat soluble forms of Vitamin C. It fights free radicals from the environment that kill and damage skin cells. (Free radicals have nothing to do with the 60's so leave the hippies alone.)
The major power of essential oils. Eleven anti-aging essential oils give you reduction of fine lines, better skin tone and elasticity with in 30 days.
"What else" you ask? Want your cake and to eat it too?
Birdy Botanicals is always 100% guaranteed.
For all skin types including sensitive and mature.
Birdy Botancals Anti-aging Serum is under $30 at full retail price.
Finally, check out a Blog review from Mary Winkenwerder, with BRINK magazine. She calls the Anti-aging Face Serum a "Must have!"
Apply Serum after cleansing your face and before you moisturize. Didn't you hear? The 40's are the new 20's?